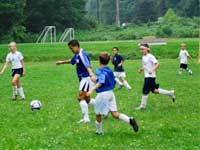 *PLEASE NOTE THE VSA PHONE NUMBER HAS CHANGED*
*NEW NUMBER IS 304-669-5270*
WINTER CLINICS STARTING IN JANUARY, REGISTER NOW!
***VSA is in need of more coaches, immediately.***
Player experience is required. Coaching experience is preferred, but not required. Training will be provided. Send your resume to Valley Soccer Academy for consideration.
Full Schedule
Check here for all of the programs currently scheduled.
Class Rosters
Check here for a schedule of the programs currently being taught, along with the names of the students registered for the classes.
Cancellations
Check here for information about cancellations.